From Mrs. Garinger: Parents and students in both 7th and 8th grade are invited to attend an informational meeting tonight about the 8th grade trip to Washington, D.C. This meeting will take place in the Group Teaching room immediately after the mandatory sports meeting.

Golf Scramble benefiting R&R Tent Rentals employees. All information is on the flyer.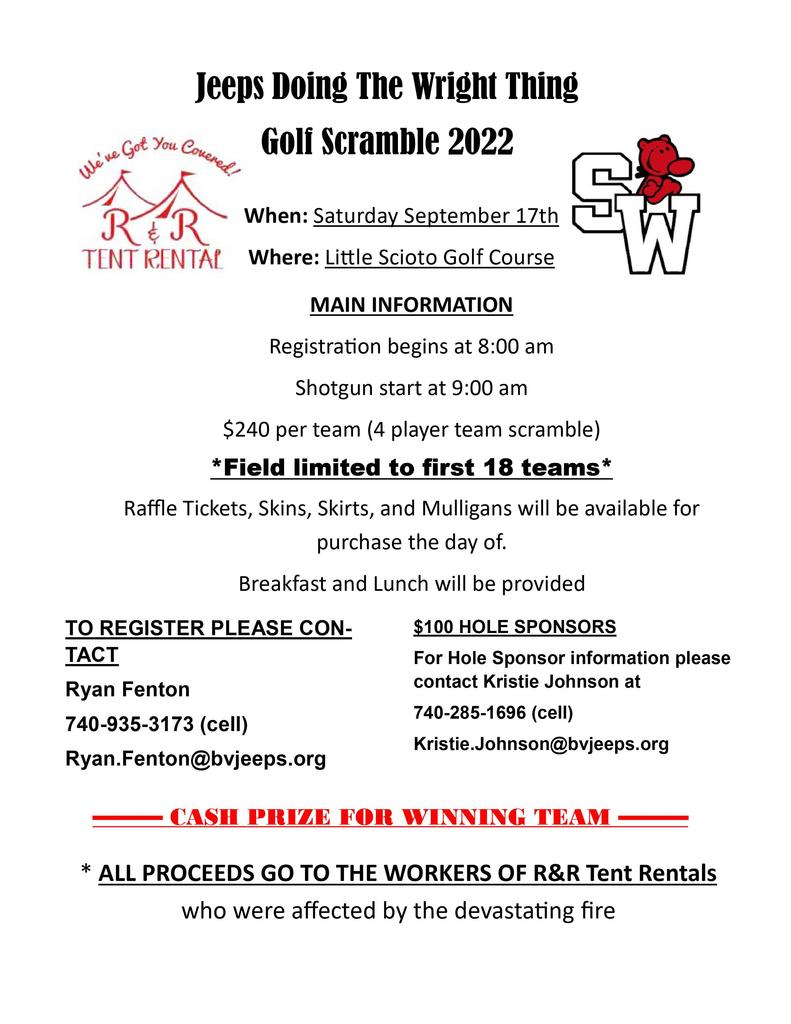 The Bloom-Vernon Local School District is seeking applicants for the following: Full-time Bus Driver Interested & qualified applicants should submit resume to: Bloom-Vernon Elementary School Mr. Adam Howe, Transportation Director PO Box 479 South Webster, OH 45682

Our annual Open House will be next week, August 15th from 5 p.m. to 7 p.m. for both schools. The first day of school will be on August 17th. We are looking forward to welcoming back our students. If you want to see the district calendar, it can be found here:
https://www.bvjeeps.org/page/district-calendar

The Athletic Boosters are holding an organizational meeting on August 15th at 4:30 p.m. at the high school. Information will be given and an officer election will take place at that time. If you have any questions please contact Rodney Barnett at 740-778-0001.

It's time for the Jerri Cummings Memorial Scholarship 5K Color Fun Run/Walk. It will be held on Saturday, September 10th at 9 a.m. All the information is on the form here:
https://5il.co/1fqd6
. If you have any questions please contact Tracy Collins.

South Webster High School 10th grade student, Jeremy Sheppard, passed away earlier this week in a drowning accident. Jeremy was a fun loving boy who loved being a part of the South Webster Jeep Basketball program. The entire school district and community send their condolences to his family and friends. Jeremy will be missed. Parents and students are reminded to contact the high school office for any assistance with counseling needs at 740-778-2320. Further information will be shared as it becomes available.
https://www.wsaz.com/2022/07/29/body-teen-16-recovered-following-disappearance-scioto-river/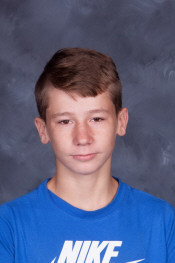 Mrs. Smith sent us information on Shoes that Fit. If your Bloom-Vernon Elementary student is in need of shoes for this school year, please fill out this form:
https://forms.gle/4T66ATUmW8PHEPdL6
. If you have any questions please contact the elementary school.

Bloom-Vernon Local Schools and community will be holding a prayer vigil for 10th grade student Jeremy Sheppard, who is currently missing. The vigil will be held in the high school gymnasium at 8:00 pm this evening. We will also have counselors available tonight as well as the days to come for students and staff in need.

Coach D. Claxon is hosting a volleyball camp next week. The link can be found here:
https://bit.ly/3aROx49
. Last day to register is this Friday. All information is on the form.

The 2020 Yearbooks have finally arrived. They may be picked up in the high school office June 29th and 30th from 8:00 a.m.- 2:00 p.m. or anytime after July 25th. If you have not purchased a 2020 yearbook and would like to the cost is $60.00. 2021 and 2022 will hopefully arrive early fall. If you have any questions please email Mrs. Slack at
judy.slack@bvjeeps.org
Older yearbooks are still available as well.

Press release from the Naval Academy. Congratulations to Brody Boggs, Naval Academy Class of 2026.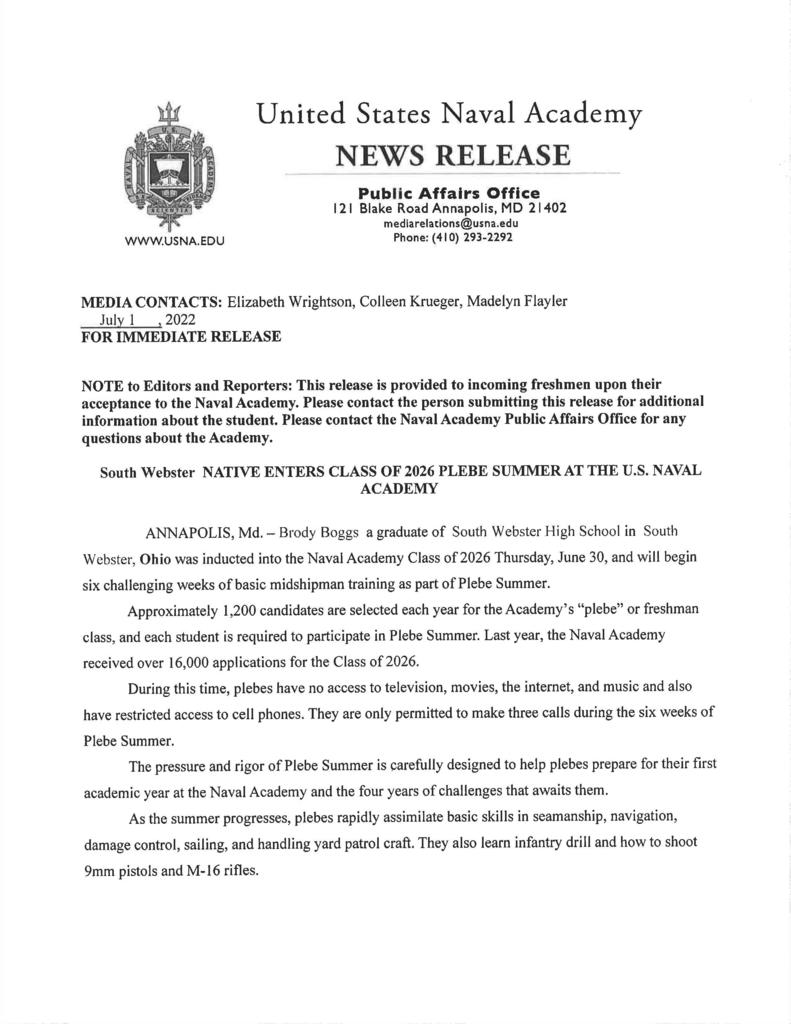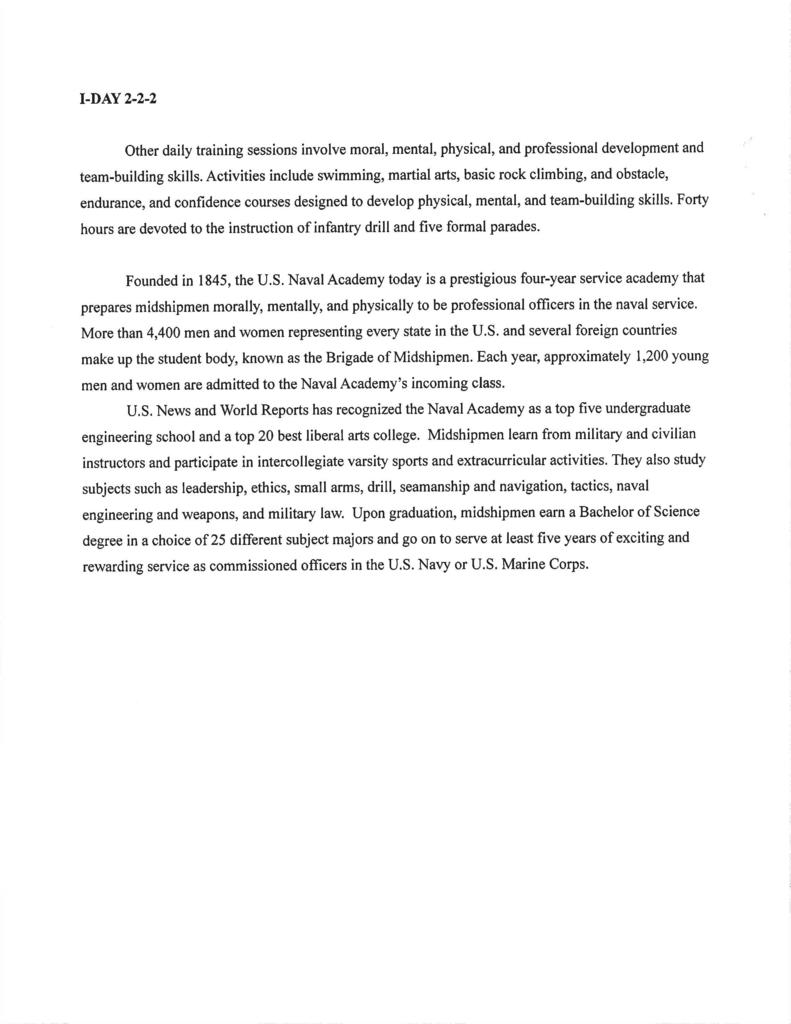 There will be no summer school tomorrow, June 20th, due to the Juneteenth holiday.

Youth Soccer Camp will be July 5,6,7 (Tuesday-Thursday) at the High School Soccer Field.  Kids entering grades 1-8 are welcome to come and get a camp shirt for participating.  Camp goes from 9am to 12 noon and the cost is $40 (discounts available for multiples from the same family - $10 off each additional).  Register at the link below, and pay the day of camp (cash or checks can be made to South Webster Athletic Boosters).  Please bring a soccer ball if you have one and a refillable water bottle.  We will have coolers to refill water.  Here is the registration form link: 
https://forms.gle/DvtaKQWptiHBG6gC8

From Girls Head Coach Ryan Dutiel: Little Lady Jeep Camp Monday, June 6-Wednesday, June 8 9:00-12:00 each day in our high school gym Cost is $40 per camper Girls Grades 4-8 Each camper will receive a camp T-shirt.

For those who are joining our Zoom meeting this evening for the 50th anniversary of the Class of 1972. Information is below. We will be unmuting the audio after the alumni banquet is over. Class of 1972 50th Reunion Time: May 28, 2022 08:00 PM Eastern Time (US and Canada) Join Zoom Meeting
https://us04web.zoom.us/j/71267897816?pwd=w3WuT-SdiCIDk8AwFTEmwYhhkwh-tF.1
Meeting ID: 712 6789 7816 Passcode: uw9amM

Baseball plays Whiteoak at the VA this evening at 7 p.m. in the District Championship. Good luck boys.

Graduation 2022 can be found here:
https://youtu.be/RYogi1aDk74
. Feed will go live around 10 minutes before the ceremony. Congratulations to all of our graduates and we wish you luck in your future!

The following student athletes are advancing to regionals on May 25 and May 27 with field events starting at 4pm and running events starting at 5:30pm: Kate Mantell Marley Kreischer  Alyssa Yates Alivia Hanes Brady Blizzard  Kaleb Mantle Kody Mantle Zander Rawlins Brody Boggs The regionals will be held at the following location: Southeastern High School 2003 Lancaster Drive Chillicothe, Ohio 45601

Softball will be advancing to regional semifinals with a 18-2 win over Waterford in the District Championship. The regional semifinal game will be played on Wednesday, May 25 at 5pm. The location is the following: Pickerington High School Central 300 Opportunity Way Pickerington, Ohio 43147 You can purchase tickets online. 
www.OHSAA.org/tickets