From Mr. Havens: Thursday Regional Baseball Tournament, scheduled for Thursday, June 1st at Beavers Field (1651 Granville Pike, Lancaster) at 2:00pm. *Spectator Parking is available at Beavers Field. We will have someone direct your bus to their parking area after your team unloads. *Full concession stand available for your spectators. *TICKETS
https://www.ohsaa.org/tickets
* Gates open to spectators one hour prior to first pitch

Bri Claxon talking to the Little Lady Jeep basketball campers about the college athlete experience.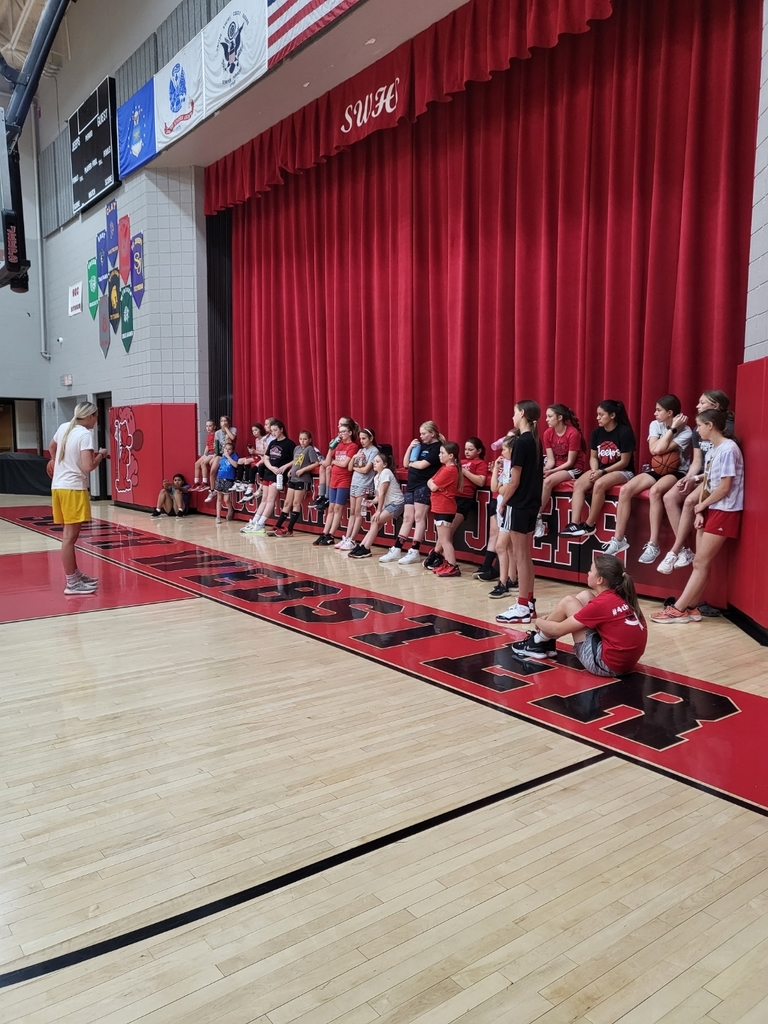 Tomorrow, Track will be going to Heath at 4:30 p.m. and Softball will take on Wheelersburg at Unioto at 5 p.m for the Regional Final. Baseball will play on June 1st at 2 p.m. against Berlin Highland. The game will be played at Beavers Field in Lancaster. GO JEEPS!

Lady Jeeps won 3-2 over West advancing in the tournament. more news soon...GO JEEPS!

The Jeep 5K run/walk will be Memorial Day morning at 9 AM at Bloom Vernon Elementary School? You can register for the event the day of the race with registration beginning at 8 AM. The cost to register the day of the event will be $15. If anyone has any questions they can contact Darcee Claxon at 
darcee.claxon@bvjeeps.org.--

Softball will take on Portsmouth West tomorrow at Unioto at 2 p.m. Baseball will play on June 1st at 2 p.m. with the opponent to be determined. The game will be played at Beavers Field in Lancaster. Track will be going to Heath with a 4:30 p.m. start on Friday. Stay tuned Jeep Nation!

Little Ladies Jeep Camp 2023 information. Information is on the attached flyer.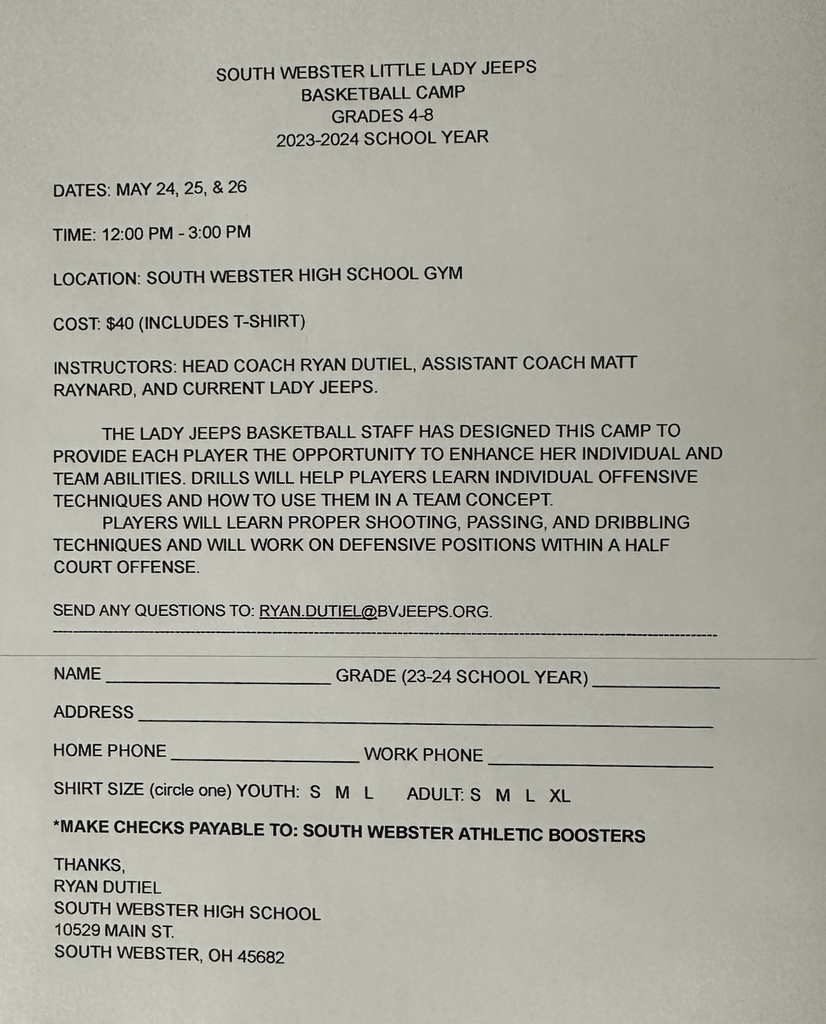 https://www.ohsaa.org/tickets
Tickets for tonight's baseball and softball games. Baseball will be taking on Leesburg at Paints Stadium at 7 p.m. Softball will be taking on Adena at Unioto at 4 p.m. Good luck Jeeps!

Jeep Nation, we apologize for the late post, but, we don't want anyone to get scammed. If you see a livestream link from anyone other than our profile it is a scam. We are deleting them as they come up, but, if we turned off comments, you wouldn't be able to ask questions. We will continue to delete them as they come up. Have a great evening.


From Coach McClintic: Link for tickets for tonight's baseball game in Chillicothe.
https://www.ohsaa.org/tickets
Bracket says 8pm, but we've been told we will start approx. 45 minutes after the game before us is completed. We are game 4 of 4 on the day.

The softball game @ Unioto vs. Adena has been moved to Monday at 4 p.m.

Marley will be advancing to the Regional Track Meet in the 2 mile. She finished 4th and Joanna finished 7th. Congratulations ladies.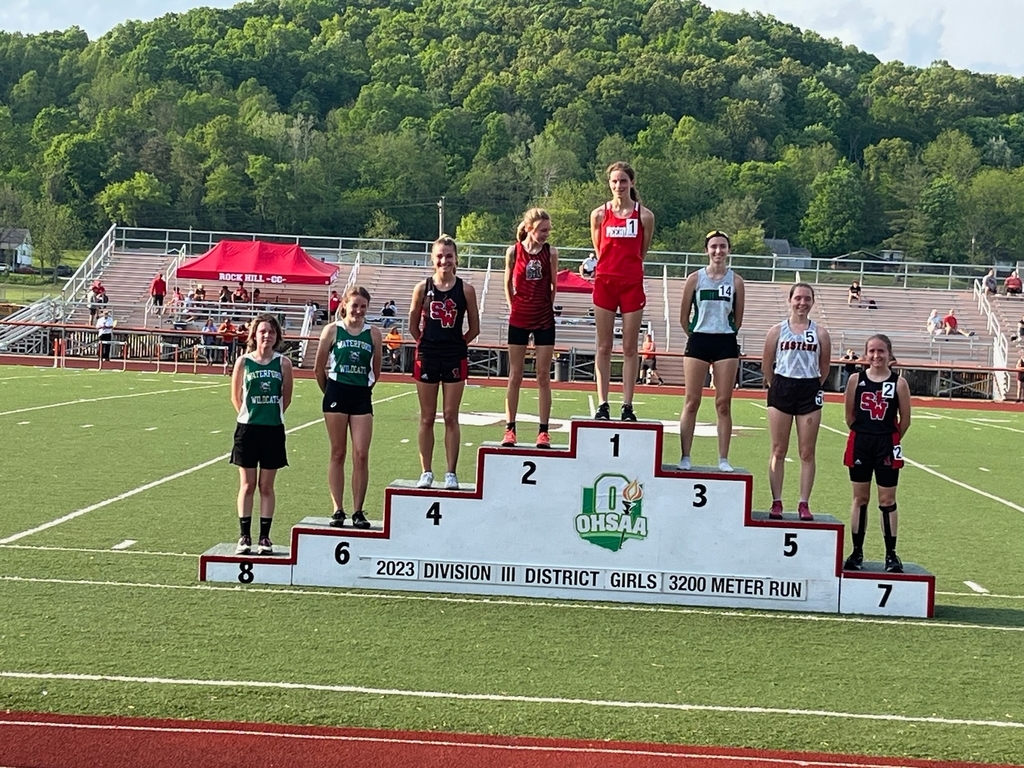 Shoutout to Jacob Clune for helping with the lunch menus all year. He has been a great help to us and Krystal Hill. We look forward to him continuing next year.

Few things this morning Jeep Nation: -There be a two hour early dismissal today -On Memorial Day, Monday 5/29, the SWHS cheerleaders will be having a LARGE, multi-family yard sale in the High School parking lot. All proceeds will go toward the girls' uniforms, camp, competitions, etc. -The dome is up. It will be completed over the summer, but the structure is up. You can see a video here:
https://youtu.be/w2BjVCfu5aY
-We hope that everyone has a great, safe summer. We look forward to seeing everyone back in August. We wish our graduates and retirees good luck on their future endeavors. GO JEEPS!

Sports Updates: Track travels to Nelsonville for District Finals-Friday-3 p.m. Baseball Jeeps play Eastern-Reedsville @ VA Stadium-Saturday-8 p.m. Softball Lady Jeeps play Adena @ Unioto-Monday- 4 p.m.

Lady Jeeps softball won 13-3 this evening. Great win ladies!!!

SWHS would like to congratulate the following talented young artists for having pieces on display in the County art show. L to R: Carly Mays, Breanna Cooper, Aubrey Skiver, Leia Lynn, and Rhyan Alkire.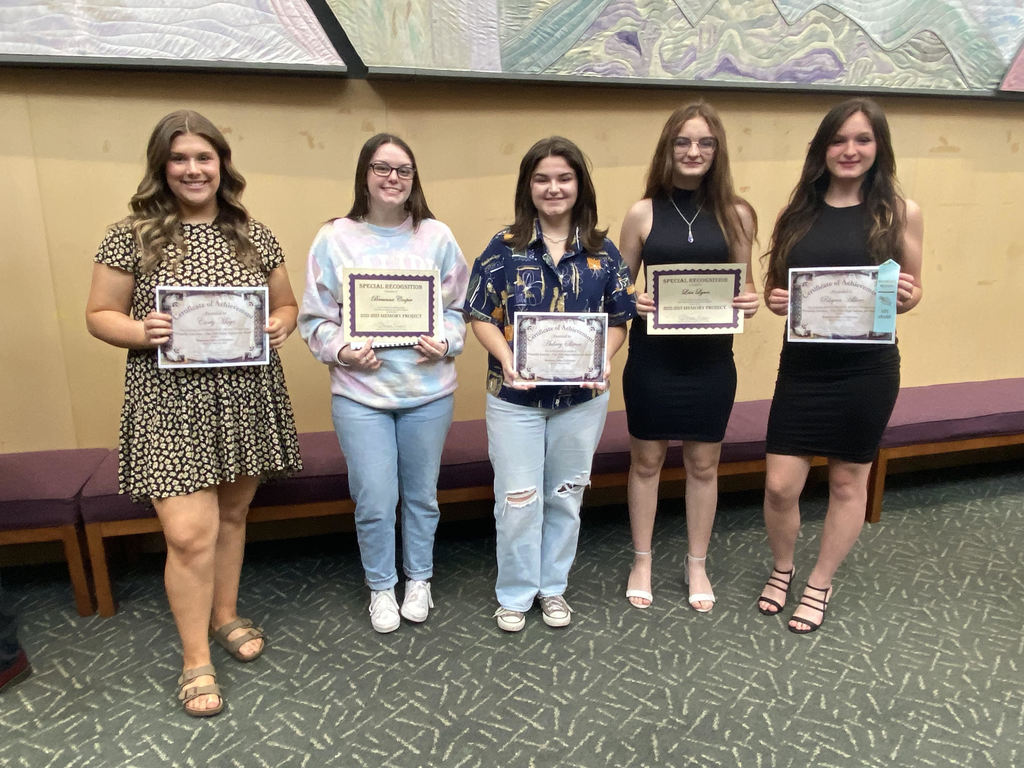 7th Grade ELA Position