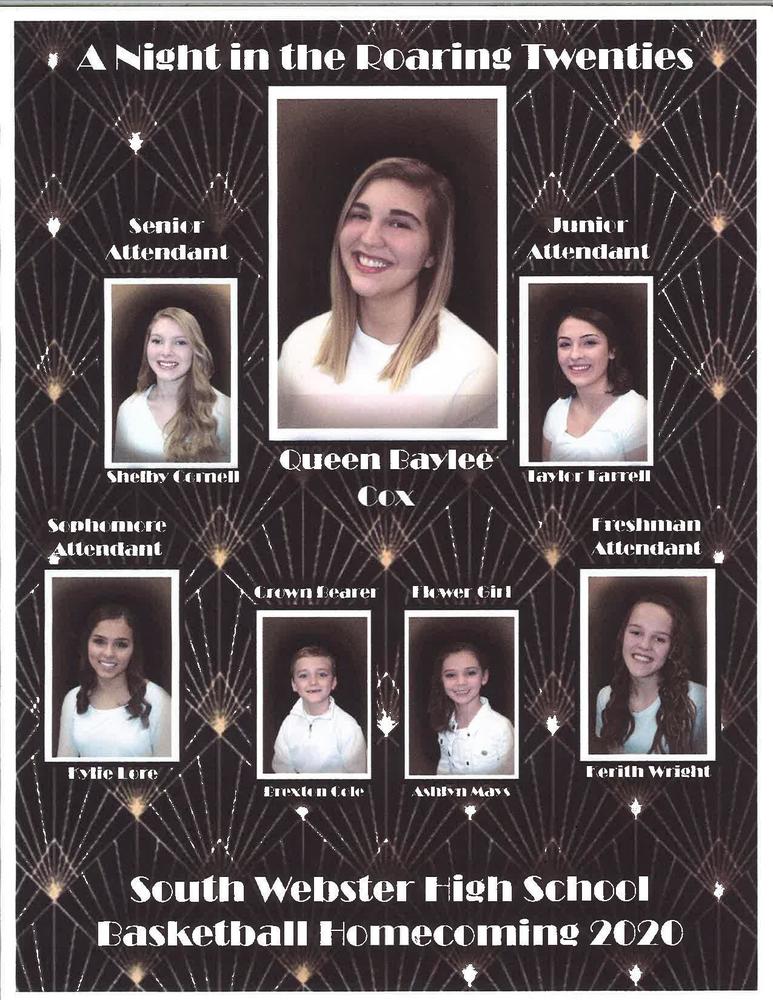 Homecoming 2020: "A Night in the Roaring 20s"
Bloom-Vernon
Tuesday, January 07, 2020
Homecoming 2020
"A Night in the Roaring 20s"
Freshman Attendant, Kerith Wright, is the daughter of Cathy and Randy Wright. Kerith is being escorted by Will Collins, son of Doug and Tracy Collins.
Sophomore Attendant, Kylie Lore, is the daughter of Angela and Tommy Lore. Kylie is being escorted by Gabe Ruth, son of Jill and Dustin Ruth.
Junior Attendant, Taylor Farrell, is the daughter of Jennifer and Mike Ferrell. Taylor is being escorted by Bo Puckett, son of Richard and Kamala Puckett.
Senior Attendant, Shelby Cornell, is the daughter of Andrea and Lonnie Cornell. Shelby is being escorted by Andrew Smith, son of Josh and Missy Smith.
Our 2020 Homecoming Queen is Miss Baylee Cox. Baylee is the daughter of Julie & Bobby Vallandingham and Adam Cox & Lori McNiel. Baylee is being escorted by Braden Bockway, son of Tate and Valerie Bockway and Cameron Carpenter, son of Lori and Steve Carpenter.
Our Flower Girl is Ashlyn Mays, daughter of Scott and Rhonda Mays.
Our Crown Bearer is Brexton Cole, son of Brenton and Jenny Cole.
Homecoming Ceremonies will be between the Junior Varsity and Varsity contests on Friday. Our Homecoming Dance will be held after the game until midnight. It is $7.00 for single entry and $10.00 per couple.